Rail Terminals will provide load/unload space for Train s.
Here is a small list of those Terminal s that are already in game:
Notice that here are several Types of Terminals for each Rail Type in game. They only diffrence in Name and Build Cost and will be shown like: "Cost: 1.150.000$ ( 1.750.000$ / 2.650.000$ )". Means First Number is for
Iron Rail, second for Electric Rail and last for Magnetic Rail.
-------------------------------------------------------------------------------------------------------------------------------

Name: Single "Iron (Electric, Mono)" Rail Terminal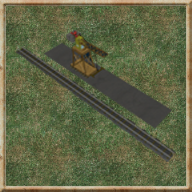 Cost: 1.150.000$ ( 1.500.000$ / 2.000.000$ )
Space: one train
Size: 2 Width, 8 Length
Terminal Range: 4 Blocks
-------------------------------------------------------------------------------------------------------------------------------
Name: Dual "Iron (Electric, Mono)" Rail Terminal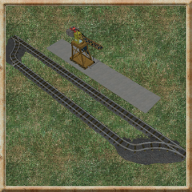 Cost: 1.950.000$ ( 2.650.000$ / 3.750.000$ )
Space: two trains
Size: 3 Width, 10 Length
Terminal Range: 5 Blocks
-------------------------------------------------------------------------------------------------------------------------------

Name: Quad "Iron (Electric, Mono)" Rail Terminal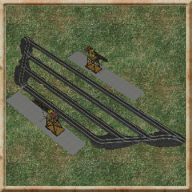 Cost: 3.650.000$ ( 5.250.000$ / 7.000.000$ )
Space: four trains
Size: 4 Width, 14 Length
Terminal Range: 6 Blocks